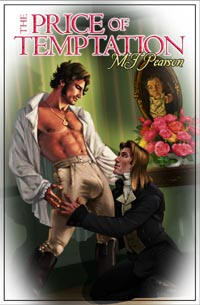 The Price of Temptation
by
M.J. Pearson

<![if !supportLineBreakNewLine]>
<![endif]> Stephen Clair, the notorious Earl of St. Joseph, has a lover he canít afford, a social calendar thatís out of control and a libido that rules his life. If he canít get control of all of them, he will fall into financial ruin. Could the youthful, handsome and dependable Jamie Riley be the solution to his problems?

Jamie Riley has a secret that keeps him from accepting the sexual advances of his employer, Stephen Clair, and a past he would like to leave behind. But Stephen is a man who knows how to awaken a passion that Jamie has been trying to suppress, and carries a price that Jamie would rather not pay. But it isnít easy to ignore passion, especially when itís so temptingly close.

Julian Jeffries, Stephen's lover, has found a way of living the high life without lifting a finger. It isnít until Julian notices that Stephen has been spending time with his latest employee, Jamie Riley, that he begins to worry about losing everything heíd schemed to have. Now Julian needs to find a way of getting rid of Jamie without raising suspicion. And, as Julian knows, the best way to do that is to dig into Jamieís past and find something to use against him.
Brought to you by Seventh Window Publications
Booksellers: Seventh Window distributes through:
| | |
| --- | --- |
| | ASP Wholesale |
| | Bookazine |
| | Ingram |
| | Bulldog Books (Australia & New Zealand) |
The Price of Temptation (ISBN 0-9717089-3-2) is available in trade paperback, cover price $12.95. For more information, or to set up an account, email info@SeventhWindow.com
Contact Us
We'd love to hear from you--drop us a line.
Visit Seventh Window Publications here.
How to contact us
:

E-mail M.J. Pearson: author@thepriceoftemptation.com

or write to: M.J. Pearson, P.O. Box 40663, Indianapolis, IN 46240

Seventh Window Publications: info@SeventhWindow.com

New! Get an autographed bookplate! Details here.