Discreet Young Gentleman...
All hell breaks loose when Dean Smith, Earl of Carwick, is tricked into being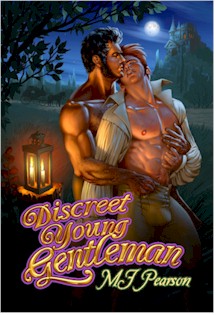 discovered in the company of Rob, a handsome male prostitute. Now Dean needs to repair his broken engagement to a wealthy heiress…and Rob is the only one who can identify the man who set him up, proving to Dean's fiancée that things weren't as they appeared.
The trip from Worcester to Bath turns into a journey of self-discovery, as Dean finds himself becoming increasingly attracted to Rob. His charming companion stirs feelings Dean has long kept repressed, but acting on them would make true the accusations that destroyed his engagement in the first place. Torn between duty and desire, Dean's destiny lies in the hands of a Discreet Young Gentleman.
Booksellers: Seventh Window distributes through:
Discreet Young Gentleman (ISBN 0971708959) is available in trade paperback, cover price $13.95. Standard discount, returnable. For more information, or to set up an account, email info@SeventhWindow.com
Autographed bookplates available--click here for details
Contact the author: email M.J. Pearson at author@thepriceoftemptation.com
or write to: M.J. Pearson, P.O. Box 40663, Indianapolis, IN 46240
Correspondence is always welcome.